Mélanie Holt—Certified Rolfer™
I was born and raised in Paris, France. Growing up my parents exposed me to different alternative medicines, especially osteopathy. I was always a physically active person and eventually moved to the Chamonix valley in the French Alps to live my dream of mountaineering, skiing and rock climbing. As an amateur athlete I was always very aware of the needs, but also aches and pains, of my body.
I discovered ROLFING® structural integration when I moved to Seattle. When I received the 10 series, it simply made sense in my body. It improved my breathing, my posture and helped with a torn tendon in my shoulder. Rolfing also helped me find my balance in Seattle, my heart and soul belong to the French Alps and always will, but with Rolfing I found my inner gravity and peace in my new surroundings.
I immediately knew I wanted to become a practitioner, I had been looking for a way to help people, I just didn't know how. My hands and the safe container I provide became my medium.
Now in Portland, we chose to live in Saint Johns to be close to Forest Park where my husband and I can go running as soon as we have time, (we also have 2 children to keep us busy). And I am excited to be part of the growing North Portland community of healers.
I speak English and French and utilize Cued Speech (slowly) in both languages.
I do not work on my clients but with my clients. I listen and attend to their needs as they go through the process with sincerity, compassion and a (French) sense of humor.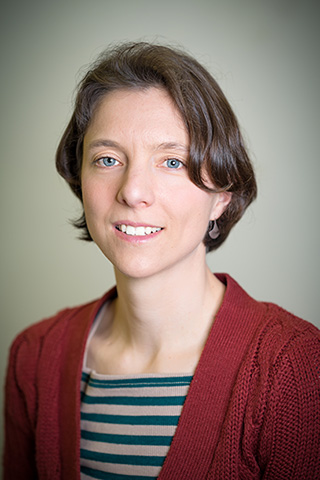 Melanie is a skilled and intuitive Rolfing practitioner. Thanks to Melanie and Rolfing I have increased body awareness in my balance, footwork, posture, and movement. I immediately noticed profound physical changes and improvements in my shoulders, chest, and posture. Rolfing opened up my chest cavity, allowing me to breathe easier. My most problematic body area is my shoulders; I tend to carry all of my stress in my shoulders and neck. From the first Rolfing session, my posture dramatically improved, and I find that everyday stress no longer finds its way into my neck and shoulders. What a relief!
Rob W.
"We are not truly upright, we are only on our way to being upright. This is a metaphysical consideration. One of the jobs of a Rolfer is to speed that process along. We want to get a man out of the place where gravity is his enemy. We want to get him into the place where gravity reinforces him and is a friend, a nourishing force."
– Dr. Ida P. Rolf
The office is at 2205 N Lombard st, Suite 105, Portland OR 97217, in the Brandon building (grey with yellow doors). There is a beautiful shared waiting room with Suite 101, inner Essence chiropractic, where you can enjoy tea or water. Easy parking around the building.